Moez's home page!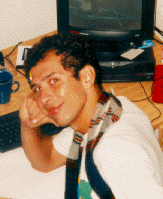 Wel

come, Bienvenue, Marhaban, Benvenuto

Welcome everybody to my web page. Here is the menu for today:
---
What's on the menu

My self : Commin' check me out


My University: Not that fun


links to Sports in Tunisia : and to the best Tunisian football team ever, no need to say which one I'm referring to


DEA page : What my studies and work are about


My country: The Green Tunisia


Trips: Beautiful pictures from 4 continents

This page has been visited
times.
Page created and maintained by Moez Hababou